Sean Fields & Damon Humphrey (After Midnight Productions Founders)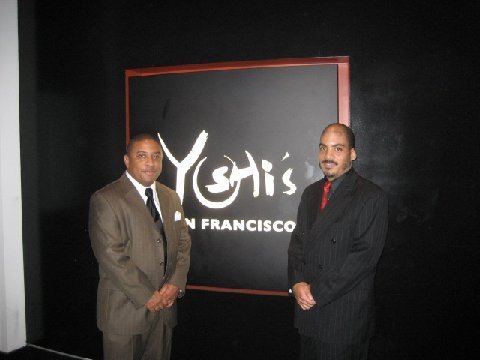 Est. 2003 - Here's our story...
It all began like it has for many other producers, and that is... a mixer and two turntables. In the mid 80's, Sean Fields, the founder of After Midnight Productions (AMP), began his quest in music from learning to play the piano by ear, to taking lessons, to hone his skills, to D'Jing, to singing and performing Live. From this, the group After Midnight was formed. Years later due to life and circumstances, the group broke up, but the name still had value to Sean. So, he and a close friend, Damon Humphrey, who saw his vision and had dreams of his own, formed a production company in 2003 therefore keeping the name alive... After Midnight Productions.

The 2000's meant interesting and exciting times for them!! From working with many independent artists*, to being mentored by and working an artist development deal with Kirk Crumpler and Cornell Carter, their production work and credits go a mile long. From Bobby Brown, The Whispers, The Dazz Band, E-40, Riche Rich, Tupac, Santana and many, many more. AMP also included Sean's brother-in-law, Patrick T. (AKA... PZY) who furthered the company's interest in production and promotions as well. AMP's promotion credits include many independent artists as well as some mainstream artists from Spice 1, AK9, to Jerry Rice's daughter Qui. In 2006, Sean Fields handed over the reigns to Damon Humphrey, and what a smart move that was! Damon H. has proven himself to be a very savy and dedicated CEO who looks out for the interest of any artist he works with.
He has successfully produced with the help of other collaborators, 2 new albums on several major retail sites, working with local R&B Singers and Rappers, as well as reaching out to talent in the UK. He has worked on and released a 3rd album with the help of Sean Fields, and a couple fellow music producers, entitled After Midnight Productions Presents The Dungeon, The Instrumental Album, which has been in every online music store. He also has successfully promoted and distributed music from After Midnight Productions to over 40 radio stations across the globe and he has been interviewed by several different writers and has articles published about him and the company. He has even produced and broadasted his own Internet Radio show. Currently he is promoting a new album entitled After Midnight Productions' Midnight Vibez which He and Sean Fields produced with the help of Mario F. a bass player, and released the album via Distrokid.com to iTunes, Spotify and a host of other streaming services 5/26/2020.



If you have any questions regarding studio time and previewing our beats please email us or you can call 415-377-5387 and ask for Damon.


| E-mail |

---
| Return Home | About | News | Service | Credits | Studio | Squad | Photos | Videos | More |